How Often Should I Service My Chrysler?
For nearly a century, Chrysler has been known for building safe and reliable cars. Whether you have a new Chrysler Pacifica, a used Chrysler 300, or a classic Chrysler LeBaron, you can keep it in driving condition longer through regular service appointments. At Rick Hendrick Dodge Chrysler Jeep Ram of Charleston, we've partnered with the experts at Mopar to bring you great service at affordable rates.
First, however, you need to know when to bring your Chrysler automobile into the shop so we can take a look at it. While you should always talk to your mechanic about your specific vehicle, here's a standard maintenance guide.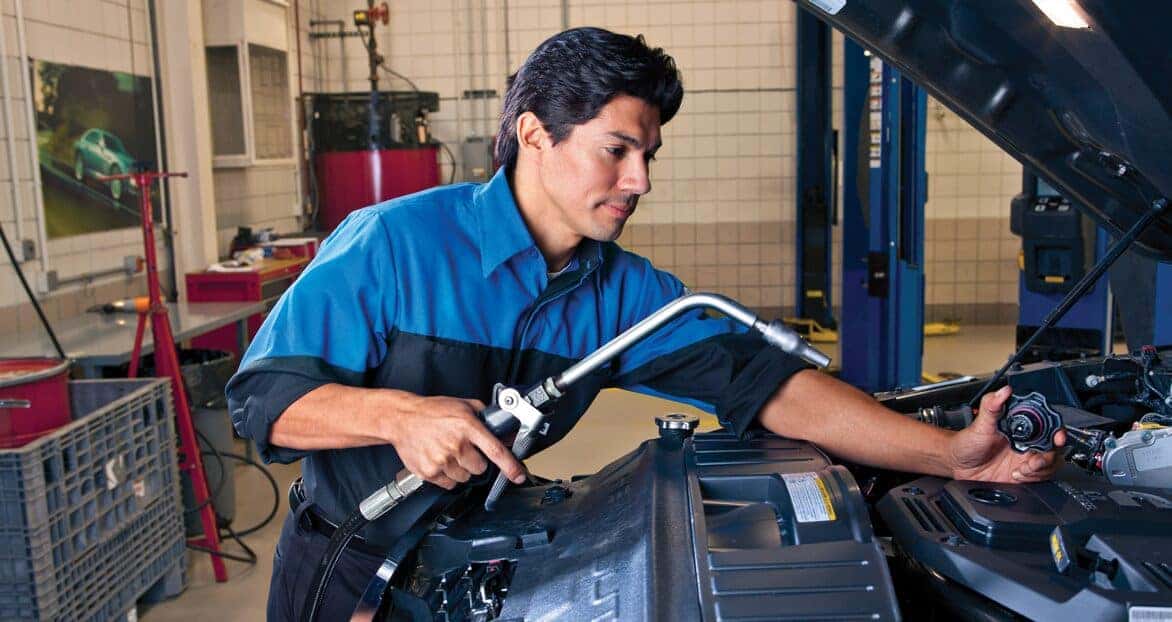 Routine Maintenance: Fluid, Filters, and Tires
Oil can be thought of as the life-blood keeping your Chrysler running smoothly. That's why it's imperative to change the engine oil and filter in your Chrysler every 8,000 miles or 6 months, whichever comes first. In addition, you'll want to rotate the tires at the first sign of irregular wear, even if it's outside of your scheduled maintenance times — worn tires can cause you to lose control!
Every 16,000 miles, perform your Chrysler's yearly maintenance. This includes changing the oil and filter, like the 8,000-mile service, as well as a few more things:
Replace your air conditioning filter.
Inspect the engine air cleaner filter and replace, especially if you drive in dusty conditions.
Inspect the brake linings and replace if necessary.
Inspect the exhaust system.
Inspect the front suspension, tie rod ends, and boot seals for cracks and leaks, wear, or looseness, and replace whatever is necessary.

In addition to these routine inspections and replacements, you should also inspect the CV joints after 24,000 miles or 18 months, and after 2 years, replace the spark plugs.
Longer-lasting parts maintenance
If you have your Chrysler for more than 3 years, or if you buy a used Chrysler, you'll want to inspect its longer-lasting parts to make sure they're not worn out. These include the left and right sliding doors of your Chrysler Voyager or Pacifica, looking for excessive dirt or grime; this is also a good time to apply lube to the rollers.
You'll also want to change out the automatic transmission fluid and filter if you frequently tow with your Chrysler, or if you drive much more than the average commuter.
After 5 years, flush and replace the engine coolant. At this stage, it's a good idea to regularly take your Chrysler into a certified mechanic for a check-up to make sure everything is working smoothly, since the car is older.

Emergencies and Accidents
Of course, life doesn't always go according to plan. Sometimes, alternators, batteries, transmissions, and even engines can just fail. When that happens, or if you're involved in a traffic accident, bring your Chrysler car or van to the service center at Rick Hendrick Dodge Chrysler Jeep Ram of Charleston!
Our certified technicians provide free estimates on whatever your service or repair needs are, and we're open when you need us. We also offer Mopar performance parts and accessories, so you'll know we're fixing up your Chrysler with quality. With free WiFi in our waiting room, we make waiting on repairs less painful, or if you have somewhere to be, we offer rentals and a shuttle service.
Whether your used or new Chrysler needs a tune-up or a full overhaul, we can help! Our service center is conveniently located near Savannah Highway in Charleston, and our friendly and knowledgeable techs can get you in and out in no time.